Precision Compression Load Cell PR 6201
Compression load cell from 500 kg to 520 t. They provide absolute precision for container cars and dosing systems. Made of stainless steel, they are highly resistant and also insensitive to vibrations.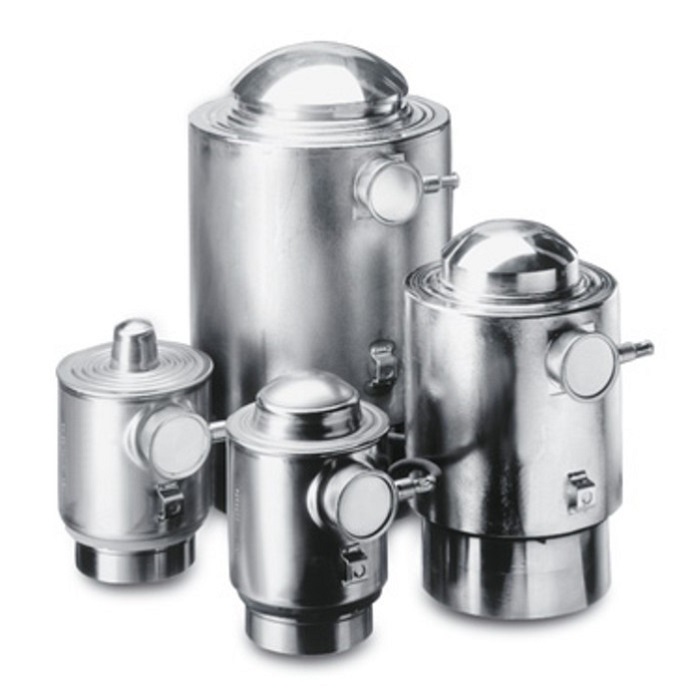 Easy to install
Well-proven rockerpin design
Full stainless steel housing
Wide temperature range
High overload capacity
Resistant against vibrations
IP68, IP69K
Suitable for Smart Calibration
Optionally available as dual bridge version
Ex-Version available
Optionally available with an extended Temperature range up to 150 °C
In combination with selected mounting kits certified according to EN 1090
Specification
The PR 6201 range of load cells is specially designed for weighing silos, tanks and process vessels. The unique design principle, in combination with the FlexLock installation kits, makes it possible to counterbalance movements arising from mechanical or thermal expansion or contraction of the vessel or its supporting construction.
A particular design characteristic is that the overall height and shape of the load cell remain unchanged, even after two decades of use. Alongside this, the unit has an especially high overload capacity of up to 200%. At the same time, this range distinguishes itself - in addition to its high measurement accuracy and repeatability - above all for its unmatched reliability, robustness and stability, which enable trouble-free operation without adjustment, year after year.
The pendulum support principle, combined with patented measuring element geometry, ensures that force transmission into the sensor is always at the optimum level and, in this way, the effect on measurement accuracy is minimized. At the same time, the load cell offers a particularly high overload range, high repeatability and perfect linearity.
There is an especially wide working temperature range attributable to special resistance strain gauge technology. The hermetically sealed enclosure and special TPE cable allow the unit to be used even under extreme operating conditions in harsh production environments. The entire measurement chain can be calibrated without the use of a reference weight. Due to - matched output - technology, a damaged load cell can be exchanged without the need for re-calibration. This saves a tremendous amount of time during commissioning.
An explosion-proof (Ex) version of this range of load cells is also available, as an option, for use in intrinsically safe environments.
更多產品資訊與規格,請洽免費服務專線0800-588990。 Free!!
或 線上留言 我們將有專員與您連絡,謝謝!!